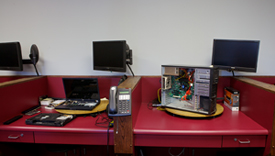 Love it or hate it, technology is now an integrated part of every business. Computers and mobile technology allow us to be productive, but when they go down that productivity grinds to a halt. Often, the better our technology works for us the better we feel about our jobs and our productivity. Never has it been more important for you and your business to have computers that function well, with software that fits your needs, and an environment where all members of the company can share data and communicate.
If you are experiencing frustration at work with your computers and network, our staff is experienced at getting to the root of problems, resolving issues and getting your computers back up and running with minimum down time.
Our goal is to support you and your staff for increased productivity and efficiency.
Just a Few More of the Business Services We Offer:
Network Support E-Commerce
Router Maintenance
Printer Repairs
Print Servers
Apple and Mac Support
Cabling Services
PC Parlor Average Pricing
$65 per hour for in-shop service at our PC Parlor location, minimum 1 hour
$125 per hour at your home or business
Call us today and let us know how we can help.