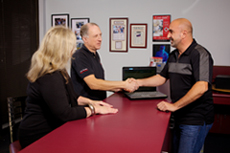 IN THE 1990's, just after the peak of the PC boom, a need for corresponding tech support became imperative in the marketplace. In response, build and repair shops started popping up like wildfire. Most of these shops were out to make a fast buck by buying poorly manufactured, inexpensive parts and selling them at the highest possible price. The problem with this logic was that those particular shops spent more time and effort repairing their own cheaply built systems than repairing any of the name brand manufacturers of the time! In addition, the geeks who ran those shops knew that if they spoke in high-tech, non-layman terms not understood by their customers, they could get away with charging outrageous prices for the minor services they were providing.
The question then became "where was a PC owner to go", and more importantly "who could they trust?" Who would speak to them in a language they could understand; explain to them what was wrong with their system and help them understand exactly what it was they were being charged for?
In the year 2000, after spending five years working for one of "those" shops, and as a self-employed consultant, Tony, owner and founder of PC Parlor, empathized with the amount of frustration experienced by PC users. He realized that he could offer his community something valuable - a place where PC owners could go, knowing they would not be taken advantage of, and more importantly, would not feel intimidated. Tony wanted to open a shop where patrons would feel more like family than customers; where they are not bombarded by technical jargon, or talked down to because of their lack of technical knowledge. Everything would be explained in terms and/or analogies average folks could understand. NO customer would leave unhappy or frustrated.
And so it began....born out of a necessity to bring good old fashion customer service back into the high tech world, Tony opened the doors to PC Parlor. A business built on a solid foundation of honesty and trust. The business model was established based on high quality parts and systems at fair prices, along with manufactured systems serviced at a reasonable price. For Tony and his team customer satisfaction is their highest priority.
For over twelve years PC Parlor has taken great pride in assisting its clients with their technology needs, and has become a mainstay in the South Bay community. As the business strives to earn and maintain the trust of its future and present clientele, it is continually finding new and innovative ways to provide better service.
About the Owner
Tony Musorafite, Owner and founder of PC Parlor, has spent over 35 years honing his skills in the Technology related industries. Before starting PC Parlor Tony worked at a major aerospace firm and in the Navy as a lead technician, troubleshooting and maintaining technology equipment. An avid cyclist, Tony enjoys the challenge of long distance endurance rides, all-the-while motivating and supporting other cyclists. It is the camaraderie shared amongst fellow cyclists that gives him the most satisfaction.